Completely redesigned the digital ecosystem for a large US healthcare system.
Pipeline Health is a nationwide healthcare brand that connects seven hospital systems across the United States. Their team of healthcare experts is solely focused on inspiring communities to live the healthiest lifestyles possible through enthusiasm, innovation, compassion, integrity, and resilience.
Each of the seven hospitals had its own website, with their own design, content management systems, and update procedures and timetables. This resulted in a disconnected user experience throughout the system, as well as a challenging user experience. Our team was given the responsibility of redesigning the ecosystem in order to integrate all locations under one brand and reinvent the customer experience. This would improve present and prospective patients' access to information and resources, as well as give speedier access to care.
Our team undertook a comprehensive discovery and research study with the Pipeline Health team to uncover their most pressing pain points and the problems each system faced with their present locations. We conducted stakeholder interviews, presented a new Information Architecture, and created a new layout for the site's navigational framework. As time went on, we enlisted the assistance of marketing team members to organise content and offer input on page layouts in order to discover the best approach to convey information to existing and prospective patients. On-page statistics were also used to drive these decisions, providing insight into the best method to develop a user-centric website from the bottom up.
We reinvented the user experience to give existing and potential patients with improved access to information and resources in order to develop an exceptional solution that best addressed user needs. We enhanced page layouts by implementing UX best practises in order to produce stunning page layouts with appropriate click-through-actions and engagement points. We made it easy for users to interact with the hospital, discover what they were searching for, and contact us.
We also wanted to construct an entirely new, efficient, and controlled editing experience for each location's marketing staff to swiftly and easily make adjustments to particular pages on the site. This involved extensive user management to provide an acceptable editing, approval, and publication hierarchy.
Furthermore, with 6 locations merging into one ecosystem, it was critical for us to consider the migration from an SEO standpoint and develop a thorough approach to minimise risk and convey authority to the new site. Along with the migration, we added SEO best practises and page structure to guarantee that all of the sites were set up for future SEO success.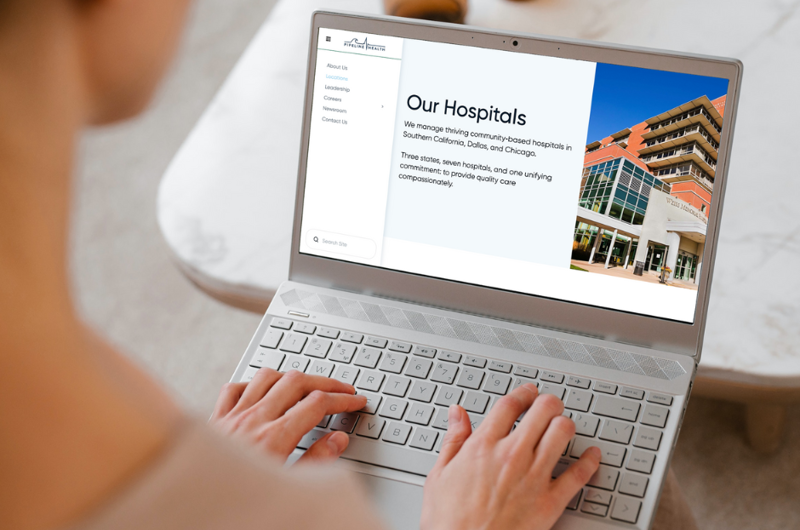 The new website dramatically altered how users interacted with the site and how the health system functions. The website' previous versions were difficult to update and browse. The revised environment provided users with more predictable layouts and a cleaner design that was simpler to read and navigate. User engagement rose across all sites, and organic traffic grew over time as a result of page structure changes and a successful SEO transfer.
Editors were also given more freedom to make critical changes to material swiftly and effectively, enhancing production and cutting site turnaround time.
As a consequence of these enhancements, the website was awarded the 2021 IMA Outstanding Achievement Award in both the Hospital and Healthcare categories.